While the bama fans are applauding Ted Roof's and the Auburn defense's latest efforts, I want to applaud Mike Dyer. Dyer is quietly building a fantastic season, as evidenced by the following numbers:
11th in the NCAA in total rushing yards with 358
7.5 yards per carry average
119 yards per game average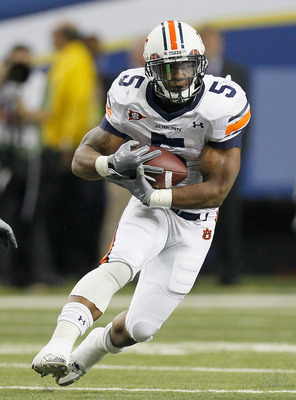 Read more after the break...
Impressive, yes, but let's go behind the numbers. Dyer has carried the ball only 48 times this season, which is the second fewest carries of anyone among the top 15 runners nationally. Marcus Lattimore, by comparison, who leads the nation in total yards with 534, has carried the ball 87 times, which is a whopping 39 times more than Dyer. At Dyer's current per carry average, he would have 652 yards with 87 carries - about 120 yards more than Lattimore.
All of this begs this question - if, as the coaches say, Dyer is a 20-25 carry per game back, why in the world haven't they given him the ball 20-25 times a game? The Clemson defense was gassed early in the game Saturday after Auburn ran the ball down their throats to a 21-7 lead, but then inexplicably went away from the run. Dyer could have been the remedy for the poor defensive play Saturday, so why wasn't he used more?
The Tide and Tiger - A blog covering the best and worst of Auburn and Alabama football and other sports. http://www.TheTideandTiger.blogspot.com