To the surprise of no one, Coach Saban has refused to name a starting QB for the season opener on Saturday. In our humble opinion, this makes perfect sense; why show your pocket aces before the flop? It's clear that Saban is happy with both McCarron and Sims, and that both will see significant playing time on Saturday. That being said, we thought we'd make some predictions as to who will actually take the first snap on Saturday morning in Bryant-Denny:
Blake Sims (2:1) - For two years, we've heard nothing but great things about this young man's potential. But when the depth chart was released this week, Mr. Sims was nowhere to be found. We think this may be Saban's way of playing coy and would not be surprised to see Mr. Sims taking the first snap.

Trent Richardson (4:1) - To be honest, this would probably be a bit unfair to the Golden Showers Flashes. I'm sure Saban will want his alma mater to make one tackle before TR scores.

Barrett Jones (12:1) - Why not? He's practiced at just about every other position on offense this past spring and summer.
Titus Ryan (25:1) - After a decade, Titus Ryan finally makes his triumphant debut at Bryant Denny stadium. Longtime members of bamaonline and tiderinsider will cry tears of joy.

Danny Sheridan (50:1) - He may or may not know who the bagman is, but with a mustache like that, he's got to be good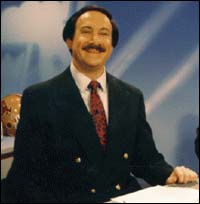 (Yes, I know he shaved his mustache, but this picture is priceless)
Harvey Updyke (100:1) - How awesome would it be for Updyke to take the first snap? If he did, what's the over/under for Kent State players getting stabbed?
(You know he's holding a switch-blade in his pocket... because you never know)